How help nasal showers in case of chronic sinusitis?
In case of chronic sinusitis the nasal showers with salt water is a sensible addition to the symptomatic therapy. This is confirmed by experts.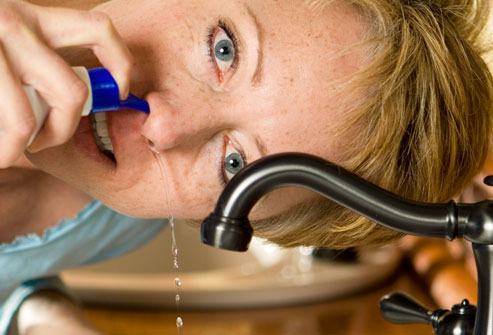 The effect of the salt water shower (SNI saline nasal irrigation) on acute and chronic sinusitis (rhinosinusitis) was investigated in numerous studies. The results, however, were partly contradictory. Now the otolaryngologists have reviewed the international literature on the subject and published their results.
According to doctors, the use of the nasal shower, especially in chronic rhinosinusitis (CRS) is worthwhile. Application of nose showers with hypertonic buffered solutions lead to a symptomatic improvement, as the doctors write. Moreover, all societies agreed on that the SNI is "a useful complement" in the symptomatic treatment of chronic sinusitis. In acute rhinosinusitis, perhaps reduced efficiency of nasal irrigation.
Nasal showers is improve the symptoms of chronic rhinosinusitis.
Effectiveness of procedure depends not only from correct selected solution for nasal shower, but also from proper technique. While nasal sprays were effective, the process of nasal shower have proven to be more effective. Also, the correct concentration of the brine should be noted: The best: from 2 to 3.5 percent hypertonic solutions. At higher concentrations, may occur severe irritation of the nasal mucosa. Also we advise you to refrain from using of untreated tap water during nasal shower.
Chronic rhinosinusitis occurs in about 17 percent of the population in industrialized countries. As standard therapy, corticosteroids are often used. In some cases, a paranasal sinus surgery is performed with the aim of an optimal ventilation of the affected sinuses or to remove polyps.