Can the "healing architecture" contribute to the healing?
Pale light and bare walls – so one imagines a typical hospital. It can affect on the healing process positively – a nice view and a pleasant design of the hospital premises. That is what various studies show.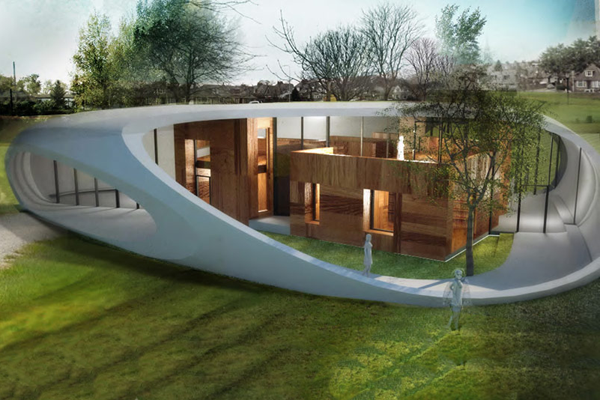 To be patient in a hospital it's, for the victims, almost always uncomfortable. One often feels helpless, afraid of the treatment or diagnosis – not to mention the pain and other health problems. In this situation, the environment in which the patient is located, is particularly important.
There are many studies that have examined the effect of interior design or the outlook from the sickroom on recovery. Here one could find various positive effects of the interior design in to the recovery process. Already in 1984 an architecture professor had shown that patients who recover faster in hospital rooms with overlook on greenery, than those who were looking at a brick wall. It was found that the subjects who looked at trees during recovery, lived through complications faster, consume less painkiller medication and were staying in the hospital on shorter period, than the other patients.
Less stress with pleasant hospital environment.
In 2001 an Italian study showed that patients with depression who staying in rooms with plenty of morning sun recover faster. Similar studies substantiated these results. Accordingly the patients who are in a pleasant hospital environment consume less medication, have a lower blood pressure and feel less stress.
But so far experts still complain on lack of scientific evidence in favor of this theory. Nevertheless, an increasing number of physicians believe that the environment and the architecture can accelerate the healing process of patients. In few hospitals we have now implemented these findings.
"Healing Architecture"
The patient is found here almost like in a hotel. A spacious bathroom, fresh flowers on the bedside table, a view on a beautiful green lawn and old trees promotes relaxation. Carpeting, a pleasant light and a special climate ceiling, which regulates the temperature by means of circulating water, complete "luxury package". Was supported the building of the, so-called, studied "healing architecture".
Also scientists nationwide unprecedented research focus "Healing Architecture" with the question of the influence of light, plants, temperature, colors and materials which can help to the recovery of patients. At the same time new concepts of hospital architecture are designed to recover more quickly the patient. Because the researchers here are unanimous: A pleasant environment, the patient feels better and will recover faster.